Cardio-Pulmonary Rehabilitation
Improving Outcomes For The Medically Complex Patient
•Stroke
•Coronary Artery Bypass Graft (CABG) Surgery
• Pacemaker Care
• Congestive Heart Failure (CHF) Chronic Obstructive Pulmonary Disease (COPD)
• Emphysema
• External Defibrillators (Life Vest)

The Inn has a strong commitment to providing a clinically integrated continuum of post-acute care resulting in patients regaining their optimum functions. We focus on creating a seamless integration of our post-acute services, which include physical, occupational, and speech therapy through the skilled nursing rehabilitation and outpatient therapy programs. Because each person's needs are unique, treatment is individualized based on the Patient's physical limitations, abilities and goals for recovery.
Within this high quality rehabilitation environment, The Inn has created a new Cardio-Pulmonary Rehabilitation Program to consistently deliver excellent results in a timely manner for Patients. Like our highly successful Orthopedic program, Cardio-Pulmonary Rehab features seamless coordination between our medical director, Dr. Scott Elsbree, MD, our care staff, our rehabilitation therapists, the Patient's doctors, and the Patient and their family. This team generates specific care, nutrition, and therapy plans to ensure that our Patients are being discharged much faster than the national average with a much lower re-admission rate back to the hospital.



Our program is aimed at the medically complex patient that may be suffering from several diseases or conditions including diminished respiratory function, neurological and cognitive disorders, cardiac disease, digestive conditions, and infection.

When our Patients experience multiple medical conditions occurring simultaneously, they need the assistance of a variety of medical and rehab professionals with specialized knowledge to facilitate maximum recovery.

Our Medically Complex Cardio-Pulmonary Rehabilitation Program Is For Patients Who Require Comprehensive Care For The Following Conditions:

• Stroke
• Coronary Artery Bypass Graft (CABG) Surgery
• Pacemaker Care
• Congestive Heart Failure (CHF) and Chronic Obstructive Pulmonary Disease (COPD)
• Emphysema
• External Defibrillators (Life Vest)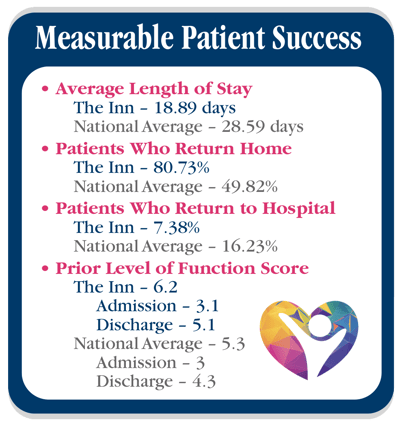 Cardio-Pulmonary Rehabilitation Program Components:
1) Comprehensive Patient Evaluation resulting in a Care, Nutrition, and Rehabilitation Plan with measurable outcomes. This holistic process addresses the specifics of the patient's unique set of issues through a team approach.
2) Medical Management of the symptoms and complications of the Patient's diseases, achieved through individualized intervention, proper contingency planning and appropriate follow-up plans. The Inn's Care Staff go through specific training for serving the medically complex Cardio-Pulmonary Patient.
3) Rehabilitation Therapies including Physical, Occupational and Speech, adapted to the specific requirements of the patient. Rehabilitation staff are specially trained to aid the patient in reducing the impact of debilitating conditions. They work with the Patients and their families on continued treatment at home to better maintain independent functioning.
4) Nutrition for our Patients is specifically designed for their complex medical conditions. Nutritionists work with the patients and families on the appropriate nutritional adjustments that may need to occur as the patient goes home.
5) Communication with all members of the care team is key. With the medically complex Patient we need to regularly adjust and modify the care plan based on the progress or changes in the patient's condition. It is vital that this communication includes the Patient's Doctors and family.
6) Specialized Education and Training for Caregivers, Patients, and their Families about managing the Patient's specific conditions, continuing exercise regimens, and eliminating potential risks or hazards in the home.