Bayshore Place Philosophy
At Bayshore Place Secure Assisted Living and Skilled Nursing, we recognize that each of our Residents has unique challenges that impact their life. However, we do not allow a Resident's difficulties to define them, but instead we help them to achieve Daily Victories and imagine a bright future for themselves, in spite of personal obstacles. We call our caregivers "Companions," and they are the cornerstone of our Residents' experience. They provide all of the services that you would perform for your family. They assist in bathing and dressing, serve all of the meals, and coordinate and participate in the many activities our Residents may choose. They know our Residents by name and have the flexibility to tailor daily life to the desires of each Resident. Flexibility and personalization are key to the Bayshore Place program. While we serve three delicious meals every day, the kitchen is always open so that our Residents can eat as they would like. In both Assisted Living and Skilled Nursing, we offer activities based on the individual abilities and needs of our Residents. The Bayshore Place lifestyle is designed to enhance the Physical, Intellectual, Spiritual, and Social aspects of our Residents' lives through a family atmosphere providing many opportunities for positive engagement. We believe this atmosphere will maximize the potential for each of our Residents through building strong relationships with other Residents and our Companions and by enjoying their life of meaning and purpose. To put it another way, Bayshore Place is not designed to be homelike, it is quite simply "Home."
Bayshore Place Guideposts of Living
At Bayshore Place, we have designed our community, our culture, and our approach to care around five key areas we call the Guideposts of Living: Design, Lifestyle, Medical & Therapeutic, Family Communication, and Staff Education & Training.
Guidepost 1 - Design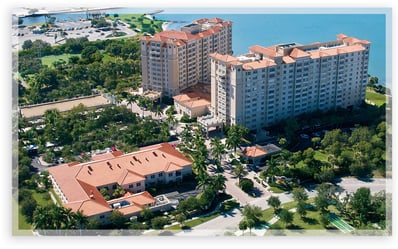 The Bayshore Place design creates a home environment for our Residents. Bayshore Place is located on the second floor of The Inn at Sarasota Bay Club. The first floor of the Inn is well known for its comprehensive Medicare Rehabilitation Services. This insures that if Bayshore Residents have an episode that requires rehabilitation services they can get the required care without ever leaving the building.
Bayshore Place is also part of the Sarasota Bay Club campus overlooking Sarasota Bay, giving our Residents access to our beautiful campus grounds. Bayshore Place's unique dual licensure provides 14 secure assisted living units surrounding a comfortable living room and access to two outdoor balconies. In addition, there are 15 skilled nursing units with their own living room insuring that we can care for the needs of our Residents as their circumstances change. Our beautiful dining room allows our Residents to enjoy the great food in a lovely social environment.
Bayshore Place Common Area and Amenities
• Lobby Living Room
• Dining Room
• Secure Outdoor Garden
• Assisted Living Great Room
• Skilled Nursing Great Room
• Three Outdoor Balconies
• Beauty Shop
• Medicare Rehab Services (First Floor)
• Hospice Rooms (First Floor)
• Beautiful Sarasota Bay Club Grounds
Guidepost 2 ~ Lifestyle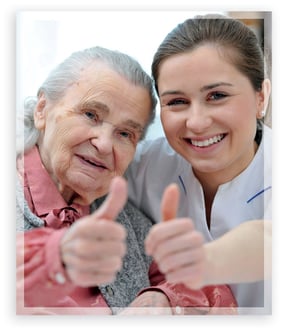 Bayshore Place offers a high level of qualified staff to deal with the issues and needs of our Residents. Our Companions are either Certified Nursing Assistants, Medical Technicians, Licensed Practical Nurses, or Registered Nurses, and are able to relate to and work with our Residents based on their specific medical, cognitive, and social needs. Our Companions respond to our Resident's opportunities and challenges by answering two simple questions: "What would Mom do?" and "Would I do this at my home?" The answer might be helping them get up in the morning, make them an afternoon snack, or help them get to an exercise class. Just like Mom, our Companions want to make each day great for those in their care. A typical day at Bayshore Place involves assisting each Resident get personally ready to enjoy the lifestyle. We work with our Residents so that they can determine the schedule that suits their personal lifestyle. Our dining program insures that our Residents have the choices they need to dine as they are accustomed, selecting from a menu that includes daily specials and a wide selection of always available items... and the kitchen is always open for a between meal snack! A variety of events and activities occur on each individual floor throughout the day and are organized into a variety of "Bayshore Place Clubs." These clubs range from exercise to games and crafts to entertainment and our Residents are welcome to participate or not. Our Companions are always there to assist and encourage them on their daily journey.
Guidepost 3 ~ Medical & Therapeutic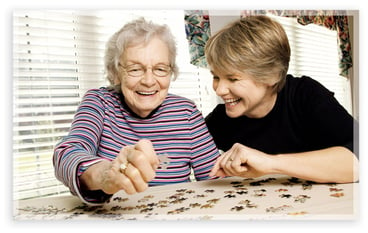 As our Residents proceed on their personal pathway of life, we insure that their individual care plan is developed, supervised and regularly reviewed by qualified and specialized health care professionals. Our Medical Director is a physician who regularly reviews our overall health care program and works with our Resident's personal physician in responding to individual issues, opportunities and challenges. Our Registered Nurses assess the cognitive and physical condition of each of our Residents and then develops and reviews the associated care and medication management plans. Our Registered Dietician develops our specialized menus and assists in dealing with each Resident's individual dining requirements.
Guidepost 4 ~ Family Care & Communication
When your loved ones are dealing with the challenges of aging it affects the entire family. At Bayshore Place in addition to caring for your loved one we want to be there for you. As you desire, the Companions who care for your loved one will call to keep you up to date and answer any questions. Family is welcome 24 hours a day at Bayshore Place and you are welcome to dine or attend any of our celebrations as you desire. If you live out of the area, we can also arrange for you to Skype with your loved one. At Bayshore Place we know our Residents and their family members. Bayshore Place Window: One of the most unique features at Bayshore Place is our common area camera that allows family members, via a password, to see what is happening 24 hours per day. We believe this features makes us more accountable to our Residents and their families, plus providing an added level of comfort to our Residents loved ones.
Guidepost 5 ~ Staff Training & Education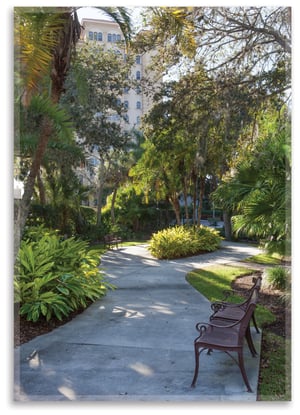 Bayshore Place is dedicated to insuring that all of our Companions and other staff are properly trained in helping our Residents on their personal journey. We have teamed up with the Roskamp Institute, a leading research organization dedicated to understanding and treating chronic disorders of the mind. They have endorsed our training program aimed at helping our staff understand and properly respond to our Residents that are dealing with Alzheimer's, Parkinson's, and other memory limiting disorders. As this is an ever changing environment, our staff will also go through regular additional continuing education in all areas of care through the Alzheimer's Association and other available resources.