Dining Choices

The Inn at Sarasota Bay Club was Awarded 5 Stars by Medicare.gov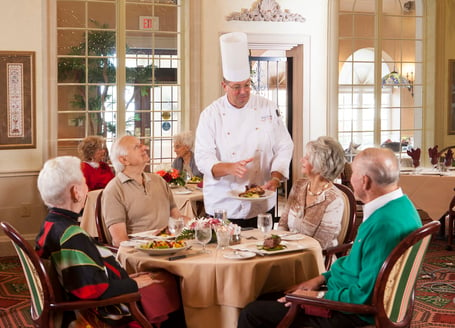 At Sarasota Bay Club, menu selections are meticulously planned each day, optimizing the freshest of fruits and vegetables, meats, poultry, and of course, the fresh catch of the day. Heart-healthy and Mediterranean choices are available on each menu and so are the chef's specials, which are quite special, indeed. Appetizers, soups and salads are all delightfully homemade and the Bay Club's divine dessert selection is often irresistible! Because we cook to order, most special diet requests can be accommodated.
In the Main Dining Room, residents can dress for dinner and be treated to impeccable service by an attentive staff who know them by name. On the more casual Veranda, wall-to-wall windows create a delightful outdoor feeling, yet the Veranda Dining Room is actually indoors, in the Southern comfort of air conditioned luxury. Lunch is served in the Veranda daily and is also available outside on the patio. Sarasota Bay Club Residents can reserve the private dining room for special events and have it professionally catered by our staff. Overlooking our beautiful outdoor pool and spa, The Palm Room offers a delightful tropical setting. In the Bar and Lounge... it's time to kick back and relax in a casual setting with a casual menu. Cozy up to the fireplace with a cocktail and watch the game on TV or meet friends for a challenging card game and light lunch. Our special bar menu features delicious appetizers, burgers, soups and salads. Each morning, our complimentary enhanced continental breakfast is available for all Residents and their guests.
SBC Dining Plans
The most unique part of the Sarasota Bay Club Dining Program is that each Resident has total control over how often, where and when they dine. We offer dining plans of 30, 21, and 12 meals per month. The more meals you commit to, the better the value. You can change plans on a monthly basis or dine on an à la carte basis and pay only when you dine. SBC Dining gives you the flexibility to enjoy the many restaurants in downtown Sarasota, cooking in your home or the convenience of having quality dining at Sarasota Bay Club.