Stay Healthy and Recover Quickly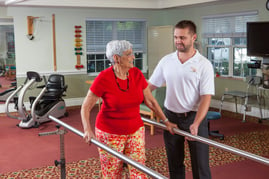 Sarasota Bay Club is dedicated to providing the opportunity for you to have the highest quality and healthiest life possible. The Sarasota Bay Club Lifestyles Department coordinates a wide assortment of activities that our Residents can participate in designed to enhance overall wellness. This can be personal training in our two different fitness centers, exercise and aquatic classes, or computer-based brain exercises. In addition our Community Nurse is a resource to advise you on your personal health needs or guide through a recovery process. Our Dining room offers an array of healthy choices and even offers a Mediterranean Diet for those that choose this brain-healthy option. SBC is here to support you in making the choices you believe will let you achieve the lifestyle you want.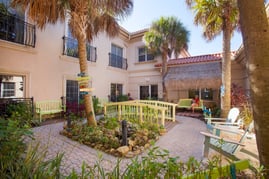 When life presents a health setback Sarasota Bay Club provides the resources you need to get you back to the lifestyle you desire as quickly as possible. Sarasota Bay Club offers the convenience of having therapies and services available on our campus. This ensures that you have the options you need so that you and your doctor can determine the best course of recovery.
This means we can offer different options for how you and your doctor plan and execute your recovery and we are with you every step of the way. We even have doctor on-campus who offers regular hours if that is something you desire.
The Inn at Sarasota Bay Club, Skilled Nursing and Rehabilitation Services
The Inn is our 60 bed on campus licensed Skilled Nursing Center. It is Medicare-approved and specializes in state-of-the-art Physical, Occupational, and Speech Therapies. Most rooms at the Inn are private and our caring staff is dedicated to your comfort and recovery. Sarasota Bay Club Residents have priority admission as they need the Inn's services.
Home Health Care and Outpatient Therapy
If you and your doctor feel like you are better off recovering in your SBC home, we can coordinate with your doctor to provide home health care services. If eligible, these services may be covered by Medicare. Club Care is our personal nursing service that you can contract to assist in your recovery or provide personal services for any length of time. We also offer Medicare-approved outpatient therapy services on our first floor including physical, occupational and speech therapies. Your meals can even be delivered to your home as you desire. We are there to support you during your recovery.
Emergency Response
Sarasota Bay Club Front Desks are at the heart of the community and is where great service starts. Our Valets are available 24 hours per day to retrieve and park your car and help get your goods to your home. If you need maintenance or housekeeping just ask our staff and they will arrange it. Our Life Alert System is responded to by either a Nurse or Emergency Medical Technicians (EMT's) to ensure that each situation is handled professionally and properly. Twenty-four hours per day seven days per week our staff is on duty ready to respond to the needs of our Residents.
Our Wellness Center can be used by our owners as their neighborhood walk-in clinic. A Nurse is available Monday thru Friday. Our staff can take care of the following needs:
Illness
First aid treatment
Emergency response
Blood pressure checks
Wound care
Medication management
Laboratory testing
Wellness Center
The Wellness Center at Sarasota Bay Club is available to respond to emergencies, evaluate and treat appropriately (first aid) and/or contact necessary assistance (911 or resident's physician).

The Wellness Center also offers the following services:
Wellness Assessment
Vital signs (temperature, BP, pulse, respirations)
First Aid - wound cleansing and dry dressing
Assistance to make physician appointments
Consulting with your primary care physician upon request
Assistance in obtaining a walker, wheelchair, oxygen, hospital bed, or any other medical equipment you may need in your home
Resident education
In addition to our Wellness Center, our Concierge Desks at Sarasota Bay Club are staffed 24 hours a day with personnel who are trained and certified in CPR. During the hours when a nurse is not on duty, there is always an EMT on the Concierge staff who is trained and certified in CPR. Residents can call the Concierge Desk for assistance or pull the emergency cord located in their master bathroom. Residents may also push their emergency pendant anywhere on the property in an emergency for immediate assistance.