What is Full Service Retirement at Sarasota Bay Club?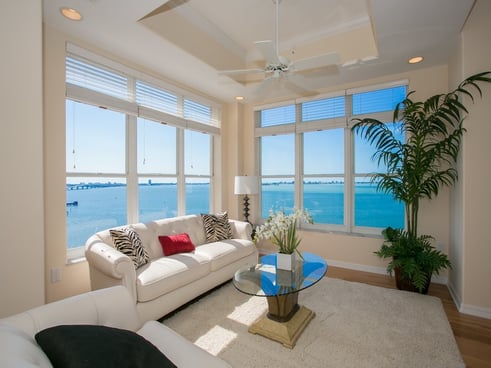 Sarasota Bay Club defines luxury as enjoying the privilege of choice. Choice about how you live and what you do - and with whom. And for those who demand nothing less than the very finest in lifestyle choices, this is the ultimate address for you.
Sarasota Bay Club offers exquisite condominium residences featuring an incredible selection of expansive floor plan designs, each with its own uniquely gorgeous view. Sarasota Bay Club boasts an unrivaled list of first-class amenities and services, including award-winning dining and an amazing array of healthcare choices, all set in an exclusive resort-style campus overlooking sparkling Sarasota Bay and regal Longboat Key.
Full service retirement at Sarasota Bay Club is a comprehensive and luxurious lifestyle providing high quality services that allows you to live your life to the fullest and as you see fit. This exciting lifestyle can be summarized as follows:
Spacious One-Bedroom to Three-Bedroom Condominiums overlooking beautiful Sarasota Bay, conveniently located near downtown, and with four different purchase / refund plans that allow you flexibility on how you invest in your new Sarasota Bay Club home.
Your Monthly Club fee provides carefree living that includes all maintenance, 24 hour concierge and emergency response, valet parking, continental breakfast, utilities, cable television and a wide variety of activities.

Our Lifestyles Department featuring education, entertainment, exercise and a host of other activities that take advantage of many Sarasota Bay Club amenities and truly explore the "Art of Living."
Our array of dining options offer you the flexibility to dine as you desire, limiting your cost for only the meals you desire. Chef -prepared meals are offered in both formal and casual dining venues.


Our Health and Wellness Program offers many on-site facilities and services, including a skilled nursing/rehabilitation center, outpatient rehabilitation, Club Care, our in-house home health agency, a Doctor with on-site office hours, and a Community Nurse.
Building a lifelong relationship is the purpose of our work and our residents are the most important people in the Sarasota Bay Club community. It's a lifestyle worth waiting a lifetime for, and it's yours to enjoy today!